Moorea – Tahitis little sister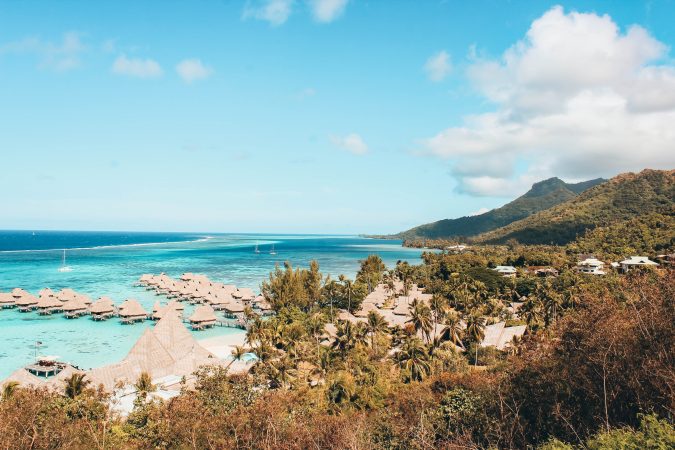 When you are flying over Moorea in the south pacific, the island looks like a heart. This establishes already the reason why it is so popular with newlyweds. The 133 km² small island has white beaches with crystal clear water and is located right next to Tahiti.
The territory of French Polynesia is located between Australia and South America deep in the Pacific Ocean. If you want to travel to Moorea, you have to get to Tahiti first, which you can reach over Asia, Australia, Los Angeles, or Hawaii. From Tahiti, you have to take the ferry to cross the ocean for another 17 km to your final destination.
The average temperature is 28 to 30°C but recommended are the months July to September to travel. The rain season in the French Polynesian region is from December to February and it can get quite unpleasant.
Once you have arrived on the island, you will notice the rich nature. In the north of Moorea, you can find two beautiful lagoons. PaoPao is commonly known as Cook's Bay and Opunohu Bay. These are the most famous bays on the island, but if you are searching for some privacy, you can simply explore the island and you will find loads of silent and deserted bays.
The beaches all around the island with their crystal-clear water give you an insight into the underwater world of the island. It might be, that you will cross paths with a ray when you are simply strolling around in the shallow waters of the bays.
A special highlight to check out is the Motu Cocoa Beach, which you can only reach by boat. It is located in the west of the island and even has its own restaurant, which will offer you its delicious Polynesian food.
If you are visiting the island, make sure to try the local products. The island is so fruitful, that they are producing cotton, coffee, sugar cane, and pineapples on the island. The small village shops and the stands at the market will definitely surprise you.
Due to its volcanic past, the middle of the island has eight peaks, which are packed with rainforests and fruitful valleys. When you are roaming the island, you will see waterfalls and small rivers crossing your path. And while you are already exploring, don't forget to visit the Belvedere Overlook. You will have an amazing panoramic view over the island, and it is easy to reach as well.
If you want to learn more about the culture and heritage of the people, you need to visit the Tiki Village. This tiny village has been built for the sole purpose to teach the visitors about the traditional craftsmanship, traditional dances, and the culture of French Polynesia.
Once you set foot on the island you will notice why everybody is dreaming of paradise in the south sea. Beaches, Sun, clear water and valleys filled with fruit.