Chefchaouen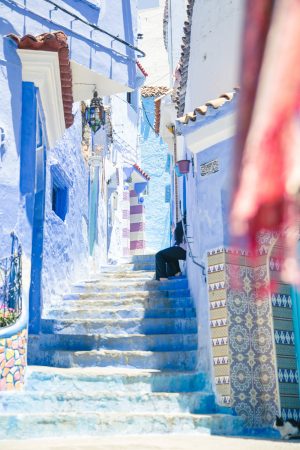 If you have been to Morocco before you will know that every city will devour you directly into their vibrant life. People are everywhere and are passing you by in a hurry, every street smells of spices, leather, and homemade food.
Chefchaouen is different in many ways. It is like a small haven of tranquility within the energetic lifestyle of Morocco. Located in the north of Morocco in the Rif Mountains lies dreaming between the Parc national de Talassemtane in the east and the Réserve Naturelle Jebel Bouhachem in the west of the town.
The name Chefchaouen, or short simply Chaouen, means "two horns" which refers to the two mountain peaks that can be seen from the city. Chefchaouen has been seen as a holy city for centuries which explains, why medieval architecture has been preserved so well. But these facts alone don't explain why this city is different from the rest.
Chefchaouen is literally blue. The most famous feature of the town is the blue facades of the houses in the old town. They are so unique and eye-catching, that you will remember them, even when you are long gone.
The locals say that the color of the houses will protect you from evil eyes. Next to the blue color of the houses you will come across beautifully decorated doors, window frames, and stairs, which will make a perfect photo motif.
When you are strolling the narrow streets of the city you will experience a very calm and relaxed atmosphere. The small shops throughout the city are selling traditionally made fabrics and pottery and you won't find any pushy salesmen trying to engage you in an unwanted conversation.
If you are into an experience in nature, you need to hike through the nearby mountains. You can start in the city and hike up the Rif Mountains to experience a breathtaking view over the city and the surrounding green valley.
Every now and then you will come across some small villages and can relax in the shade with some fresh mint tea, while simply enjoying the calm region. The mountainside and the national parks around the city are an absolute highlight for every hiker. Just within a few minutes you will be surrounded by nature itself and can enjoy the tranquility.
Next to the usual three- and four-star hotels you can also find several alternative B&B's within the city or in the surrounding areas. The small city with only roughly 40.000 inhabitants kept its charming style over the centuries. If you are interested to experience the calmer culture of Morocco, you won't be disappointed at all. Simply take your time and get in touch with the local merchants and restaurants and they will welcome you with open arms and a big smile.