25 Best Places to Visit in Rome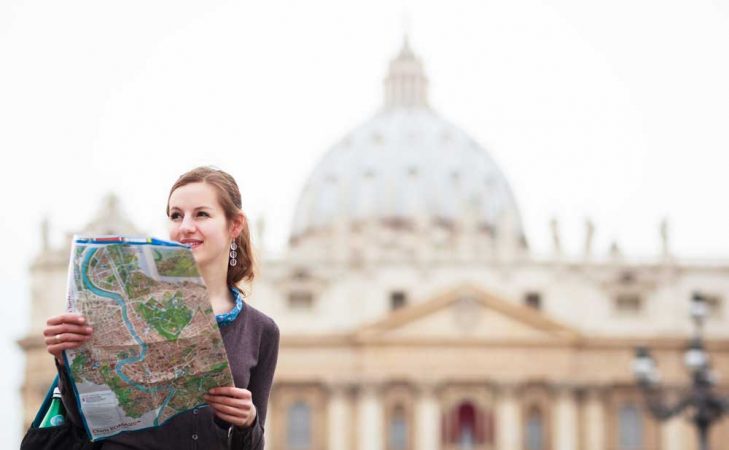 Rome is a popular travel destination, perhaps because of its amazing food, its reputation for romance, or its marvelous cultural roots. No matter the reason, if you've had to break the bank to get there, Rome is a great city to tour if you're low on cash. Here are 25 delightful free attractions to visit in Rome:
1.The Pantheon
Whether you're an art history buff, or simply enjoy the resplendent beauty of historical architecture, the Pantheon holds a rich history and boasts remarkable sites for all to enjoy.
2.Saint Peter's Bascillica
This Late Renaissance era church is the very epitome of Renaissance architecture. Designed by artists including Michelangelo and Gian Lorenzo Bernini, this beautiful building is regarded as one of the holiest shrines in the world.
3.Bocca Della Verita
Located on the portico of the Santa Maria Church in Cosmedin, legend says that the carving's mouth will bite your fingers if you lie in its presence.
4.Trevi Fountain
A main attraction for multiple films, toss in your coin and test your luck!
5.Trastevere
An historical city which dates back before the Augustian era, this city is now home to several educational institutes and even more pubs. Though the city has changed with the times, it still boasts its antique narrow alleys, streets and stone walkways.
6.The Colosseum
Known as the largest amphitheater ever built, you can visit the remainder of this gargantuan Flavian entertainment source.
7. Piazza Navona
This piazza was built in the first century A.D and contains many historically influenced buildings. You'll also be delighted to see the mass of monuments that decorate the streets there, including the Fountain of Neptune and the Palazzo de Cupis.
8. The Ancient Apian Way
This is the road which inspired the phrase "all roads lead to Rome". The road use to span 330 miles from Rome to the port of Brindisi. It now serves as a tourist path by which you can see many famous landmarks and monuments.
9. San Luigi dei Francesi
The church has several famous names attached to its building, such as Catherine de' Medici who personally saw to its completion. What's more is the church is now home to the famous trio of Caravaggio paintings, collectively known as the St. Matthew Cycle.
10. Largo di Torre Argentina
This square includes the Four Republican Roman Temples and the remains of Pompey's Theater. The spot at which Julius Caesar was murdered is believed to be within the square, as well.
11. Estate Romana
If you're visiting in the summer, you can take in some of the free concerts and events during this festival, absorbing the culture of Rome.
12.Vatican Museums
These are free on the last Sunday of each month. This includes the Sistine Chapel and the museums which preserve the art which former Popes have built-up over the years.
13. Pyramid of Cestius
Pyramids aren't just for Egypt. Originally built as a tomb for one of the four great religious magistrates, Gaius Cestius, this is one of the best preserved historical buildings in all of Rome.
14. Street Markets
There's nothing like the smell and excitement of a bustling street market. Pick your favorite fresh fruit and try some new spices in one of Rome's!
15.Via dei Fori Imperiali
This road is laid in the center of the city Rome, Italy. It acts as a path through many of the city's ruins, including the Arch of Constantine.
16. Via del Corso passegiata
This event occurs every evening from 5pm until 7pm. Everyone turns out in their best clothes to parade themselves, and watch everyone else parade as well, on the passegiata, (little walk).
17.Seven Hills of Rome
These hills were believed to be the first settlements of the city Rome, settled by Romulus. Each is topped with various unique attractions from monuments to parks.
18.Palazzo della Civiltà del Lavoro
If there is anything that can make a person feel small, its this. Known as perhaps the most prominent piece of existing Fascist architecture, this piece of art stands 233 feet high. It stands six rows high, with each nine arches in each. This is thought to be an allusion to Benito Mussolini: 6 rows for the six letters in Benito, and nine columns for the nine letters in Mussolini.
19.Free Tour
Free tours of downtown Rome last about two hours. Your guide will give history on monuments while showing you the beauty of Rome. Reservations are necessary to partake in these tours.
20.Ghetto di Roma
The Roman Ghetto was founded in 1555 and cut off from the rest of the city by a wall. You can view the remaining part of the wall and absorb the history of the historical ghetto still today.
21.Villa Borghese
This park is a whopping 197 acres, complete with several museums, woods and bike rentals, you could get lost in the scenery for hours.
22.Spanish Steps
This huge stairway, of 135 huge steps, is extremely popular for tourists and natives, alike. Maybe it's its rich background,or that the Villa Medici sits atop the stairs, either way the steps are a sight to behold and a great place to people watch!
23.Obelisks
Rome is home to the most obelisks in the world. With eight Egyptian and five ancient Roman obelisks, you have a lot of sight seeing to do. If you thought the Washington monument was a sight to behold, wait until you see these!
24.Villa Torlonia
This villa is of neo-classical design. The building is exquisite and it is surrounded by equally beautiful gardens to enchant and excite you. The villa once housed the Mussolini family.
25.The Teatro di Pulcinella in Rome
Way atop Janiculum hill, you'll find this open theater which performs open air puppet shows for free daily. Whether you're a kid, or a kid at heart, this is a truly unique experience.
There you have it. A lifetime worth of fun in Rome without breaking the bank.