Lombok – Indonesias hidden secret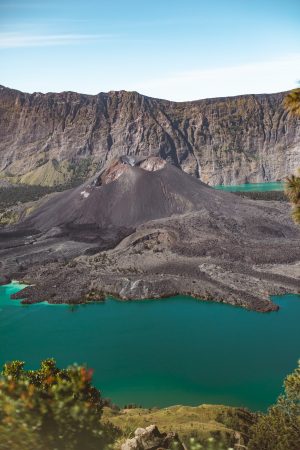 Are you looking for sandy white beaches afar from the main tourist destinations on a lonely island? Then Lombok is you hidden destination! East of Bali, this Indonesian island is a paradise for every beach vacation.
Lombok awaits you with very friendly inhabitants, delicious food, and interesting traditions. But the main attraction on Lombok are the beaches. No matter if you want to enjoy the long white beaches for tanning or if you want to do some watersports. In the south of the island is the legendary Mawi Beach. You will find high waves which are perfect for surfing. But you can also find the Tanjung Aan Bay with the softest sand near and far. The north of the island will provide lonely and secluded beaches, which is a secret spot for people who are searching for tranquility in their vacation.
The capital of Lombok is Mataram. You will find a big shopping mall as well as the Habibul Wathan mosque. You can climb the stairs up the tower of the mosque and will get a wonderful view over the city of Mataram.
You can also find some Buddhist temples in the city, but they are not as famous as the mosque. The markets in the city will welcome you to experience the unique flair of the island. Sometimes, these markets are even open at night and will give you an insight into the everyday life of the people living on Lombok.
If you want to experience the untouched nature of the island, you need to check out the waterfalls in the middle of the jungle. Near Senaru you can find some of the most beautiful waterfalls and in some, you are even able to dive into.
Another adventure awaits if you are climbing the Mount Rinjani. This is the second biggest volcano in Indonesia and the path up the mountain takes at least 3 days. One highlight of this trip will be the crater lake Danau Segara Anak.
The best time to travel to Lombok will be between Mai and October in the dry season. In the wet season, you need to be prepared for monsoon-like rainfalls and rather strong weather conditions.