Dubai – magical city at the Persian Gulf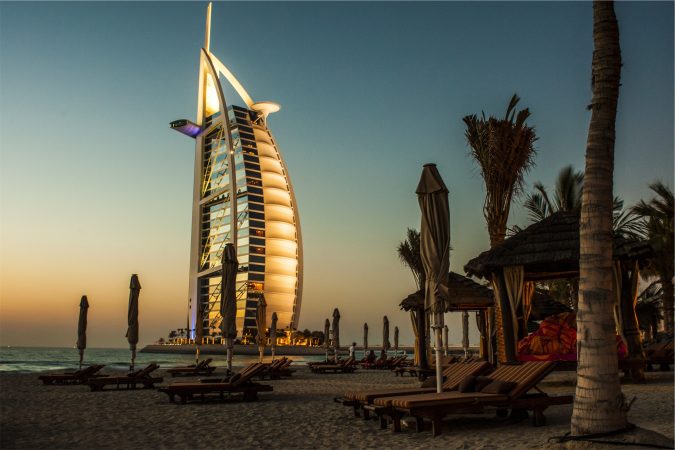 If you are thinking about Dubai, you are highly likely thinking about the Burj Khalifa. The highest building in the world is located in downtown Dubai and is 829,80m high. But Dubai is much more than that.
Dubai is a city of the superlatives. The tallest buildings, the biggest monuments, the most luxurious hotels and apartments. The city on the Persian Gulf is building their own islands and is reinventing new attractions every day.
One of these attractions is the Lake Burj Dubai. In front of the Burj Khalifa, directly next to the Dubai Mall is the artificial lake located. In the evening you can sit in one of the restaurants, watch the sun go down and see the fountains rising every 30 minutes. The water seems to dance in the middle of the lake, while different music is played, and the water fountain gets up to 150 m high. The Wafi Gourmet Restaurant offers the best view towards the lake so you can enjoy the show and your dinner at the same time.
The artificial island in the shape of a palm tree offers much more than you would expect. You have to take the Monorail train to get on the island. While you are driving over the island, the train will drive directly towards the Atlantis hotel. The view upon this hotel while driving over an artificial island is something you will never forget. Inside of the hotel is the Aquaventure, the waterpark from the hotel. Slide down a tube through a pool filled with sharks or take one, that is going almost vertical and ends in the shark lagoon.
Another highlight in Dubai is the Souk Madinat Jumeirah. Walking through this market you can find merchants for souvenirs, antiques, art or oriental clothes. At the end fo the Souk you will find the lagoon city, which looks just like old Arabian palaces. Little river are flowing through the city and you can drive on traditional wooden boats through the city.
No matter the season, Dubai will always be an amazing vacation spot. If you are planning a trip through the desert or just a luxurious stay in one of the hotels, it will always be worth your while to have a look around this magical city in the Persian Gulf.