10 Best NY Food Experiences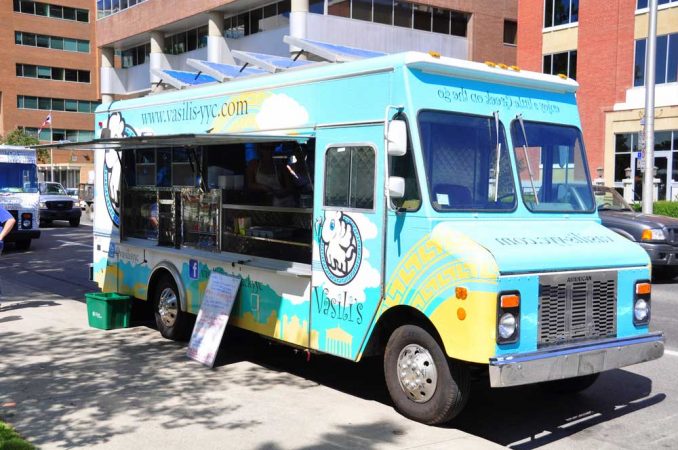 New York is known for its multicultural districts, each with their own authentic cuisine. For the ultimate New York experience, explore these 10 must-try eats.
1st Stop, Brooklyn Pizza
A trip to New York is not complete without a slice of New York style pizza. For the most authentic New York pizza, stop in Brooklyn for a thin slice or two of gooey, coal fired pizza at Di Fara, Grimaldi's or Totonno's.
2. Little Italy's Cannoli
Now that you've finished your pizza, finish it off with something sweet and creamy. Fifth Generation Ferrara bakery, in Little Italy, has buttery, flaky, creamy cannoli that is rumored to be so good that it gives Sicily a run for its money.
3. Absolute Bagels on Broadway
Absolute Bagels on Broadway, in the Upper West Side, is home to some of the tastiest, straight from the oven bagels complete with your choice of several toppings including deli meat, cream cheese, sweet treats and more.
4. SoHo, the Original Cronut Bakery
A cronut is a cross between a croissant and a doughnut, and this much-appreciated treat was first invented in the SoHo Bakery by baker Dominique Ansel. The bakery features a new flavour each month, but be sure to arrive early, because SoHo's is known to accumulate a large crowd an hour before opening.
5. West Village Cupcakes
Magnolia Bakery's buttercream filled cupcakes are to blame for the cupcake craze in NY. However, since then, Georgetown Cupcakes, Crumbs and Sprinkles have followed suit with delicious buttercream filled cupcakes too.
6. Good Burgers in Hell's Kitchen
This not-so-rough-as-it-sounds neighborhood, also known as Midtown West, is home to some of New York's best burger joints. For some of the best burgers you've ever had, try Island Burgers, Shake Shack or 5 Napkin.
7. Harlem Soul Food
Harlem's Charles' Country Pan-fried Chicken is said to be golden goodness, while Sylvia's and Red Rooster are renowned for their chicken and waffles, all, so good, they are said to invoke the same sleep induced satiety you get after a family dinner.
8. Dollar Dumpling Deals in Chinatown
Manhattan's Chinatown boasts street carts, seafood palaces and tea parlours along Canal Street and beyond, with some of the best dumpling deals outside of Asia Pacific.
9. Ice Cream Backdrops in Coney Island
Brooklyn's beaches and boardwalks are prime ice cream settings. Coney's Cones are renowned for their Elvis inspired ice cream which features peanut butter, banana and chocolate chip, and they even have a bacon flavor!
10. Whole Food Markets in Chelsea
Chelsea Whole Foods Market is the, place for health enthusiasts, with healthy options like sugar-free, vegan, raw food, organic and more and your choice of take home or ready to eat foods.