Wild ocean, medieval castles and green meadows – The Wild Atlantic Way in Ireland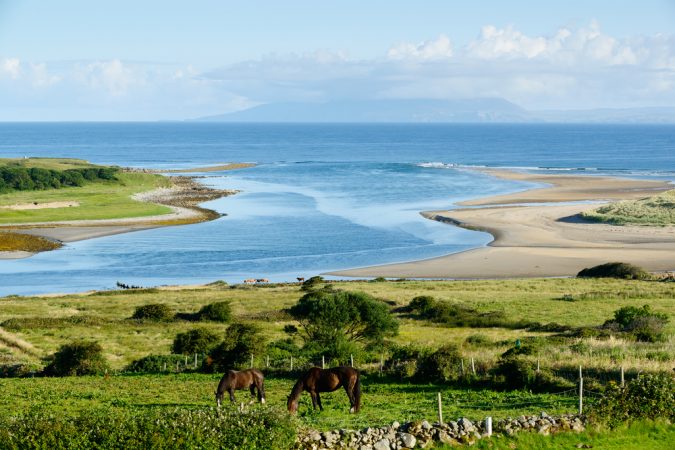 Describing the Wild Atlantic Way in Ireland can be difficult, because it has so much to offer. The route is more than 2.500 km long and is one of the longest coastal roads in the world. Along the coast of the Atlantic Ocean the street takes you from Derry in the north of Ireland to Cork all in the south of the island.
The road starts in Malin Head, the most northern location in Ireland. Over the centuries the ocean carved canyons into the irish landscape, which are named Hell's Hole or Banba's Crown. Hell's Hole is a long and deep chasm, in which the ocean continuously pushes the waves against the land. Banba was a queen in Celtic mythology and the location named after her offers the first of many stunning panoramas along the way.
As you hike or drive along the road you will see the cliffs of Slieve League in County Donegal. They are one of the highest cliffs and you can enjoy the view over the Sligo Mountains up to Donegal Bay.
The next stop you don't want to miss is the city of Galway and the Aran Islands. The Aran Islands are located 48 km before the coast of County Galway and will show you Ireland like it is portrayed in movies. Knitted sweaters, green meadows and thatched cottages in the middle of the grey-blue ocean. The city of Galway on the other hand offers art and creativity in every corner. In the middle of the city you will find every day several musicians and dancers. Galway is Europe's Cultural Capitol 2020 and never fails to amaze its visitors. Enjoy the Oyster and Seafood Festival, see the Spanish Arch or simply enjoy range of cultural background. Its nickname "City of Equals" already shows, that many different cultures add to the flair of the city.
Further down the road you will stumble upon Limerick. The city is located on the River Shannon and is as lively as unique. King John's Castle is one of the best maintained medieval castles and the Hunt Museum offers ever changing exhibitions. A local tip in Limerick is the Milk Market, where you can get locally produced foods as well as antiques and art.
The Wild Atlantic Way ends in Kinsale, just south of Cork. Even if the road and the weather can be rugged and cold, the journey through Ireland is beautiful all year round. Views over the wild Atlantic Ocean, medieval castles along the way over green meadows paired with friendly and welcoming Irishmen are what makes this trip to one of the highlights around Europe.